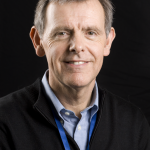 Dr John Sandars
John qualified from the University of Sheffield in 1975 and, after training in hospital medicine, entered General Practice in 1980. He became a part time lecturer at the University of Manchester in 1994 and in 2002 was appointed Director of E-learning in Health ain the Evidence for Population Health Unit. He moved to Leeds in 2004 to develop his major research interest in e-learning and medical education
He was a core member of the team that developed the first UK online Masters in Population Health. He has subsequently produced several e-learning programmes. He has a research and development interest in e-learning, especially  online learning networks. He is a principal investigator for the European Union Framework 7 project – Learning layers. He is co-director of the ESCEL course at AMEE and vice chair of the AMEE e-learning committee.
John also has a major research and development interest in  enhancing student leanring, especially for struggling and "at-risk" students. This work is informed by several perspectives, including slef-regulation and self-authorship.
He has run numerous sessions on tutor development, including work in Australia,  Egypt, Macedonia, Poland, Portugal, Singapore,  South Africa, Sudan, Taiwan and  Ukraine.