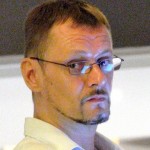 Vladimir Tomberg, PhD
As a researcher in Centre for Education Technologies in Tallinn university I participate in the interdisciplinary research including education technology and HCI. I am focused on finding ways for optimization of design process with an aim to provide the better User Experience.
My study in Learning Layers is generally about gathering user requirements, designing user interface, conceptual design, generating software requirements, and a managing development process.